---
3.5 CBM Model CMT3500RH Self Loading Concrete Mixer Truck with Bidirectional Driving
---
contact now
---
MODEL CMT3500RH BIDIRECTIONAL
REAR CABIN SELF LOADING CONCRETE MIXER TRUCK (3.5 CBM)
Product Introduction
Model CMT3500RH Bidirectional Rear Cabin Self Loading Concrete Mixer Truck is a kind of unique vehicle which combines concrete mixer, transit mixer and wheel loader. The concrete output ability is 14 cube meters per hour. The outsize wheel-side reducer driving axle and full hydraulic transmission case make the mixer truck move in any kinds of complex off road ways, the max. moving speed can be up to 25 km/hour, and the min. turning radius is 5.3 meters only.
CMT3500RH is equipped with driving camera, automatic water feeding & metering system, hydraulic water suction pump, cooling & heating air conditioner, and imported piston motor etc. The cabin is suited in the rear and the steering wheel and chair can be shifted in two directions which makes bidirectional driving available. The mixing drum can be slewed through 180 degrees (+90 degree) for high discharge over 2.0m on the four sides of the vehicle. The drum can also be lifted up 20 degrees from the bottom by two hydraulic cylinders for the convenience of concrete discharge.
* The vehicle size is small, which is suitable for limited site and widely used in new rural construction, urban construction, tunnel, airport, seaport, high-speed rail site, remote areas where there are no electric power, middle projects, farmer's houses, building, country road, irrigation, reservoir, mine, rural bridges, high-way road etc, which characterized in saving labors, high efficiency concrete output.
* High strength steel plate, which enhances the load capacity and high stability of vehicle.
* The material of rolling ring and mixing drum adopts 16mn high strength steel which uses forging normalizing manufacturing process.
* Mixing blade is designed with varying pitching angles, which simplifies the feeding device, ensures the speed faster and mixing performance better.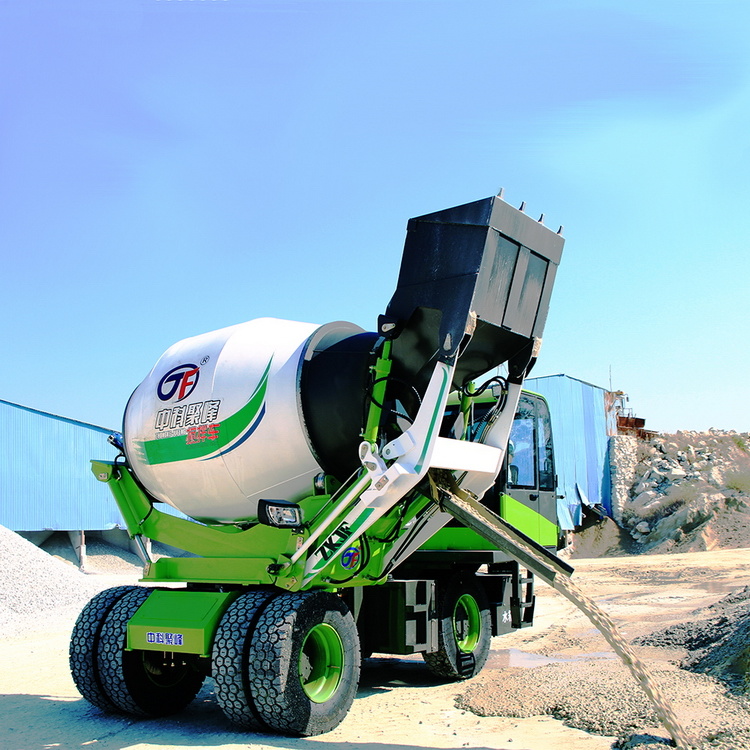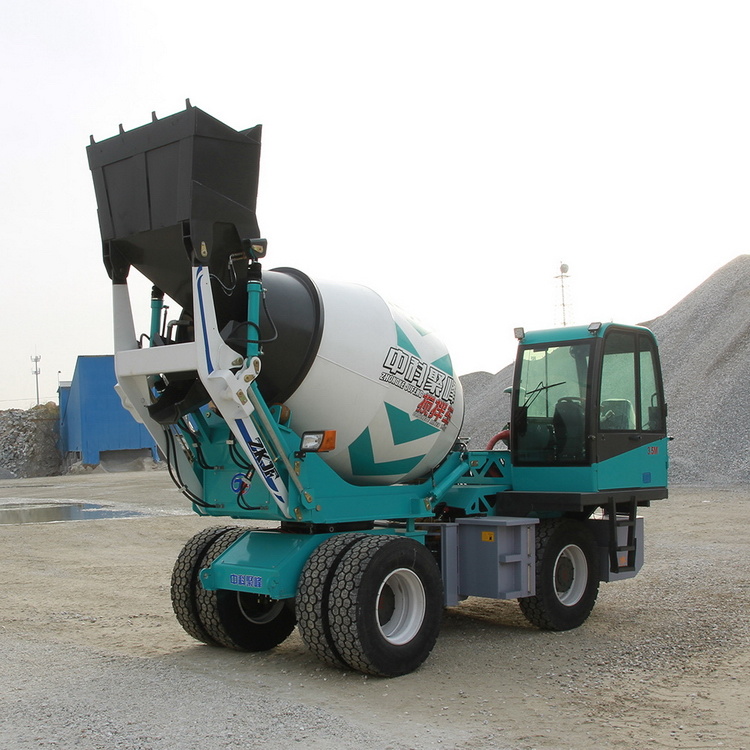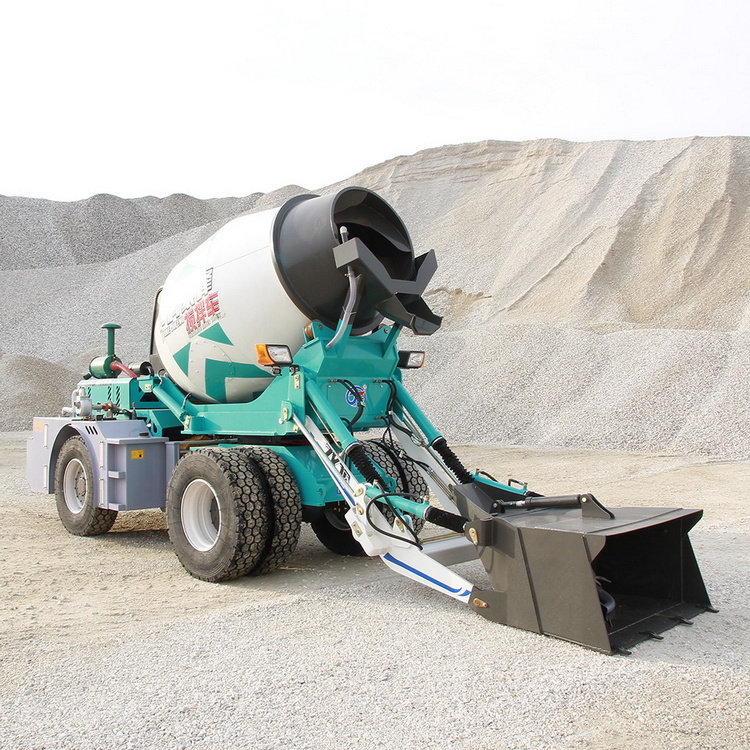 Mixing unit

Double-cone drum with double spiral mixing screw, mixing blade and convex bottom

Geometrical drum volume

5.3 M3

Concrete output

3.5 M3 / batch, 14 M3 / hour

Drum rotation speed

20 rpm

Features

Drum is rotated by means of dual gear pump and hydraulic piston motor in closed circuit. Mixing and discharging speed is independent from rpm of diesel engine. The discharging process is achieved by reversing operation of drum. The mixing drum can be slewed through 180 degrees (+90 degree) for high discharge over 2.0m on the four sides of the vehicle. The drum can also be lifted up 20 degrees from the bottom by two hydraulic cylinders for the convenience of concrete discharge.

Engine

Model

YUCHAI, YCD 4J22G, Turbo Charged and Water Cooled

(4-Cylinder)

Optional: Dongfeng Cummins

(4BTA3.9-C130, 97kw)

Rated power

85 KW (116HP) @ 2400 rpm

Max Torque: 390 N.M @2000 rpm

Mounting position

Engine is mounted transversally on the rear.

Transmission

Model

Hydrostatic "automotive" transmission with gear pump and hydraulic motor with hydraulic control, and reverse gear control on the steering wheel. It is a kind of 4 wheel drive and articulated steering.

Gear

Automatic, 4F+ 4R shift

Axles

Outsize wheel-side reducer driving axle, with oil bath disk brakes and planetary reducers

Speed

4F+4R shift

1st: 0-4.5km/h; 0-4.5km/h

2nd: 0-8.0km/h; 0-4.5km/h

3rd:0-12.0km/h; 0-10.0km/h

4th:0-25.0km/h; 0-10.0km/h

Cabin

The ROPS & FOPS type closed front cab is suited in the rear. Air conditioner, tilting front window and anatomic seat with flexible suspension are available.

Joymix

The function of drum mixing and arm lifting are controlled by one hydraulic joystick, and functions of drum revolving and lifting are controlled by another hydraulic joystick.

Weighing

Chinese brand electronic weighing system is optional upon request. The "loading cells" are acting on the drum, and technical data are displayed on the shovel loader weigher inside the cabin.

Loading shovel

It is fitted with serrated blade in the front and completed with hydraulic opening gate. The lifting arms are controlled by double-acting hydraulic cylinders.

Volumetric capacity

600L

Number of shovel loading times of full drum

Around 6 times

Chute

Could be mechanically tilted and slewed at 90 degree by means of one adjustable handle. 2 pcs. of discharging chute extensions are provided as standard accessories.

Water system

Features

Self-priming hydraulic driven water pump with quick-suction.

Max. capacity

550 L/min.

Water tank

Two connected steel tanks are positioned opposite to each other, with a total capacity of 2 x 310 L.

Gradient

Fully loaded 40%

Brakes

Air cap oil service brake. Internal oil-bath disc service acting on the 4 wheels. Negative hydraulic parking brake, with internal wheel hub discs on the front axle.

Tyres

Off road industrial type, 16/70-22.5, PR14, double front tyres

Steering

Hydrostatic articulated system steering

Mini. Turning radius: 5300mm

Electric system

Alternator

24V-1500W

Battery:

2x12V-80AH

For electric starter and road lighting, safety battery cut-off

Service refill capacities

Fuel tank:

75L

Total hydraulic system capacity:

75L

Engine oil:

16L

Chassis

Articulated chassis for off-road operation

Whole truck parameters

Overall dimensions (L×W×H)

7520 mm × 2240 mm × 3270 mm (4270 mm full height)

Wheelbase

2687 mm

Tread

1940 mm

Whole truck no-load weight

7,500 Kg

Load-carrying capacity

8,400 Kg

Max. gross weight

15,900 Kg

Drive type

Torque converter

Top speed

25 km/h

Max. climbing degree

40°

Min. turning radius

5300 mm

Hydraulic system

Dual gear pump for drum mixing and arm lifting

Flow rate: 80/40 ml/r

Walking gear pump for driving

Flow rate 32 ml/r

Hydraulic piston motor

Flow rate 56 cm3/rev

Characters:

Main hydraulic parts are imported.

Save five labors everyday

Save electricity 100 KWH without using agitator.

Save concrete transportation truck

Save wheel loader to fill in material

High resolution camera without blind area, ensure the steering safety.
Optional accessories:
* Dongfeng Cummins engine
* USA Cummins engine
* Electronic Weighing device
* Centralized greasing system
Note:
The above parameters are possible to change due to design improvement, so the parameters of your ordered machine may be different with the above information. Please accept it without advance notification for the parameters improvement.
Section detail: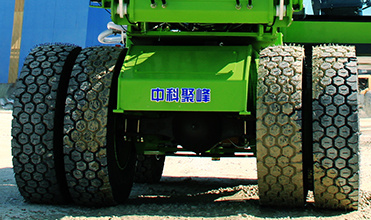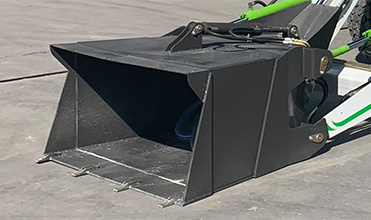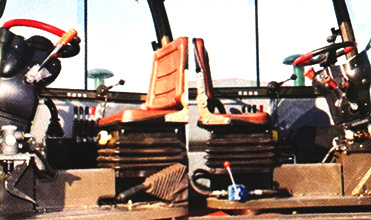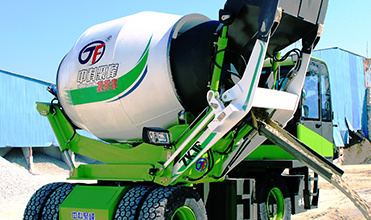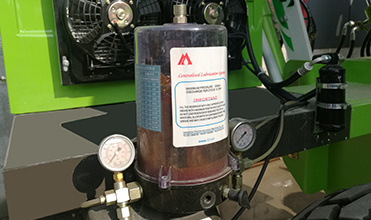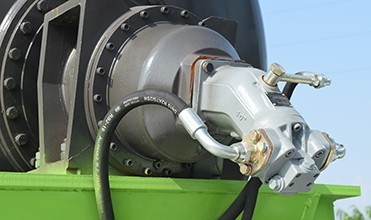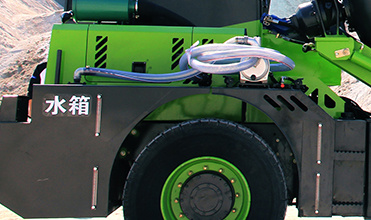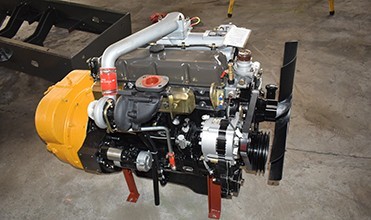 Overall dimensions: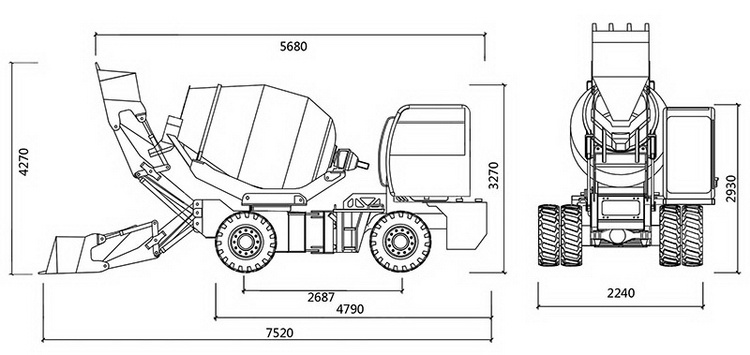 Our advantages:
Our self-loading concrete mixer truck works through a brutal test of Chinese construction sites, and we have full confidence in our machines to be with best quality and high efficiency. We believe that our mixer truck could produce more and better concrete for you.
Our services:
Warranty: one year
---
undefined